Childrens parties - Birthday Party Entertainer

CHILDREN'S ENTERTAINER
BEST BIRTHDAY PARTIES!
NEW SLIME MAKING PARTIES!
CHILDREN'S PARTIES AGES 0 TO 12 YEARS
Up to two hours of fun filled entertainment tailored to suit all age groups from ONE to TWELVE years of age
Interactive, Imaginative Musical Storytime adventure parties; Entertainment for Your Child's Birthday or Special Occasion
SPECIAL BABIES FIRST PARTIES, MUSICAL FUN PARTIES FOR AGES 0 TO 3 YEARS, and PARTIES 3 YEARS AND OVER
* Songs
* Gentle Games
* Instruments
* Dancing
* Musical Movement
Or for a magical themed party:
Invite me to come in costume, dressed as your favourite character: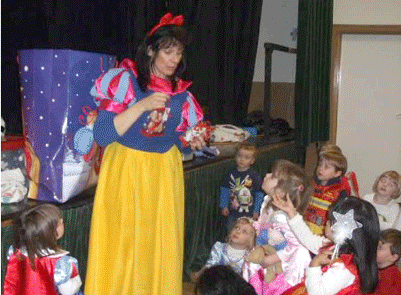 ☆Frozen inspired ice party
☆Moana inspired beach party
☆Princess Party
☆ Dinosaur Party
☆Pirate Party
☆Wild West Party
☆Circus Party
☆Fairies Party
☆Descendants inspired Party
☆Fairytale Party
☆Wizards Party
☆Superheroes Party
☆Sporty theme Party
☆Scooby Doo Party
☆unicorns and dragons Party
☆Super Slime and creative fun Party ( age 5 upwards)
☆Mary Poppins inspired party
☆Showthemes Party
Children's Mini Disco dancing parties with flashing lights, bubbles and party games/ parachute games
Children's Party Prices
£160 Babies first Birthday parties for guests under 3 years of age.
* £160 for one hour for entertainment with music, dancing, instruments and gentle party games tailored according to age. (I leave the party when the children have their party food. Booked between 12.30pm and 1.30pm
2 hour Birthday parties:
£220 FOR MY BEING PRESENT FOR THE DURATION OF A 2 HOUR PARTY (there is a break in the middle for the party food) inclusive of all prizes.
THIS OPTION CAN INCLUDE A THEME OF YOUR CHOICE WITH ME DRESSED UP--PirateJac, Frozen Queen/Princess, Cinderella, Ariel, Sleeping Beauty, Belle, Jasmine, Tiana, Elsa, Anna, Mary Poppins, Sofia, Nancy from Oliver Twist, Fairy, Tinkerbell, Maleficent, Wonder Woman, Scooby Doo, Popstar/Disco or others according to your chosen theme if you have one.
Additional information
Venue...I come to your chosen hall.
Home parties may be possible if access is easy and there is a defined area I can use as a stage area.
Please be aware than an extra £20 will apply to party bookings for areas outside a 15 mile radius of Aylesbury.
ALSO PLEASE NOTE ONLY 2 HOUR BOOKINGS FOR LOCATIONS 15 MILES FROM HP21.

(Party prices are based on up to 30 guests....)
BOOKING FEE of £50 IS REQUIRED TO SECURE YOUR DATE ANDVTIME SLOT......THIS IS NON REFUNDABLE but may be transferred to an alternative available date in the event of your cancellation due to unforeseen circumstances. If I have to cancel the booking fee would be refunded.
BALANCE must be paid in full via BACS by 3pm not less than 10 working days prior to the party.
202020
63717860
Name J Tomlin
CANCELLATION OF PARTIES BY CLIENT
(In the event of my having to cancel bookinf fee is fully refundable)
BOOKING FEE is NON refundable in the event of cancellation by the client. Parties cancelled within 4 weeks of the event date must be paid in full unless an alternative party date has been arranged with Jacqui.
I AM NOW TAKING BOOKINGS UP TO APRIL 2020
FOR MORE INFORMATION OR TO BOOK ME, PLEASE CALL 07948371615.